Join Scentsy – This Is YOUR Moment to SHINE!
August is SUPER-SIZED KIT Month!
Join during the month of August for $99 (plus shipping and tax) and receive everything you need to launch your business right now…PLUS… recieve the testers and catalogs for our Fall/Winter season that starts September 1st at no extra cost.
Let Me Introduce Myself!
I am Andrea Evans, Director of Team Dream Builders, and I would like to share my Scentsy journey with you. I am an animal loving Wife and Mother to 2 beautiful girls. I have been with Scentsy for over 10 years and at the time I really only started to make a little money during maternity leave. I wasn't thinking this would be a long term thing at the time when I joined but it turned into so much more than I ever imagined possible. I simply love being a work from home Mom all because of my Scentsy business. I am able to be there for my family, attend all their school functions and even go to the beach or the mountains whenever we want all while working my business. My Scentsy business has been an amazing blessing in my life and I truly want to share it with others so it can bless your lives as well. Because of my business, I have been able to travel to places all over the country and even other countries, all expenses paid, thanks to Scentsy and the amazing incentives they offer us.
Are you are looking for extra income to pay your bills? Are you are looking to replace your current income so you can be your own boss and be able to stay home with your children? Are you wanting to do fundraising efforts to be able to support your community or donate all your income to a charitable cause that speaks volumes to your heart? Are you are wanting to build a legacy that can be passed on to your children after you are gone? No matter what your reason is for wanting to join Scentsy, I am here to train you, mentor you, and help you get your business off to a strong start as well as offer you continued support along the way with every aspect of your Scentsy journey so you will never be all alone. We currently have team members all over the USA and we are looking to welcome many more to our group from the USA, Canada, Mexico, UK, Ireland, France, Spain, Germany, Australia, and New Zealand.
Coming Soon to the Netherlands!!
Scentsy Starter Kit – $99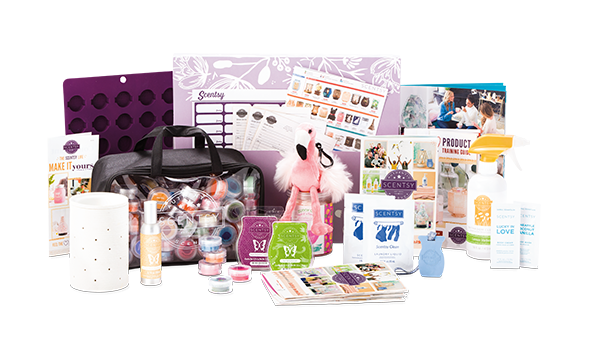 $99 Starter Kit Contents:
Etched Core Warmer
Black Raspberry Vanilla Scentsy Bar
Sea Salt & Avocado Scentsy Bar
Farah the Flamingo Buddy Clip
Vanilla Bean Buttercream Room Spray
Amazon Rain Washer Whiffs
Lemon Verbena Bathroom Cleaner
Luna Car Bar
Laundry Bundle Samples
Body Bundle Samples
Wax Molds (1 pack of 2)
Spring/Summer 2019 Fragrance Tester Set
Spring/Summer 2019 Catalogs (1 pack of 25)
Consultant Guide
Product Training Guide
Quick Start Guide
Spring/Summer 2019 Showcase Brochures (1 pack of 25)
Spring/Summer 2019 Product Lists (1 pad of 50)
Opportunity Folders (1 pack of 5)
Invitation Postcard (1 pack of 100)
Thank You Postcard (1 pack of 100)
Host/Join Brochures (1 pack of 25)
Print-Your-Own Labels (1 pack of 10 sheets)
Order Forms (1 pack of 100)
Mini Zip Sacks
Catalog Sacks
Merchandise Sacks
Free Gift
*$99 starter kit cost does not include tax and shipping — Contents may vary from what is pictured above and are subject to change at any time but I can guarantee you all the items, both in products and business supplies, will be all you need to get your business off to a great start.
When you join Scentsy, you also get a personal website FREE for the first 3 months. After the 3 month period, it's only $10 a month to keep it active if you choose to do so. You are not required to keep it active although it is a great way to get new customers and grow your team.
With Scentsy, you can work your business the way YOU want to. You can sell online, have online parties, basket parties, catalog parties, or pouch parties. The catalog and pouch types of parties are where your friends take either catalogs, testers or a small sampling of products to collect orders and then return them to you while being rewarded for their hard work with host rewards.
Click Here to Join and Get Started Today
Why Join Scentsy?
There are many, many reasons why you should join Scentsy today. Check out just a few of them below:
Freedom and Flexibility — You have the freedom to be your own boss. For me, I now have the freedom and flexibility to live my life how I choose while being there for all of my children's school activities and extracurricular activities.
Empowering Others — I am personally able to share my personal story with others while encouraging them to create and live the life they have always dreamed about living.
Your Business, Your Way — With Scentsy, you have the power to be your own boss and run your business how you want even if you don't want to have home parties. Scentsy is special because it's made up of thousands of incredibly unique and passionate people that all work together to help others succeed. It all starts at the home office, where we have many amazing teams that work hard every day because they love what they do and are truly dedicated to doing all they can to see you succeed. Scentsy provides you with lots of training and tools so you can sell online through your personal website, social media outlets, one on one appointments, or by sharing your catalogs and testers with all your friends and family which means, ultimately your Scentsy business is YOURS.
No Inventory Required — With Scentsy, we do not require you to keep inventory on hand. With the initial purchase of your starter kit, you will receive everything you need to start your business and get you off to a great start. From there, you simply order the products your customers want in your workstation and have them shipped directly to their door or you can have them shipped to you for you to deliver with your personal touches. The choice is yours.
Amazing Incentives, Just for Working Your Business — You can earn free products and trips just for working your business! The picture above shows just a few you can earn in your first 70 days. Let Scentsy help you make your wildest dreams a reality!
Be a Part of the Family — With Scentsy, we are not just another number on their reports. We have a fabulous support system from the home office all the way down to our personal team members that truly do care about you and your success. We are all one big family with Scentsy. With Team Dream Builders, we are all here to help and support each other while sharing our ideas with one another to be the best team we can possibly be.
Unlimited Income Potential — Your income potential is completely up to you. It all depends on the amount of time and effort you put into your business. Below is our compensation plan. You will be paid on the 10th of the month for all sales from the previous month on a Scentsy branded Visa Pay Card which will be issued to you after joining.
Are You Ready To Join Scentsy?
We still have Ground Floor opportunities available worldwide!! Imagine how exciting it would be to sign up and become one of the first consultants in your area!! Scentsy is still not very well known in all areas and we need your help to get the word out about our amazing products and company. I'm here to help you in any way possible. Please let me know if I can answer any questions you may have about starting your own Scentsy business and becoming a part of the Team Dream Builders Scentsy Family. Don't miss YOUR moment!!